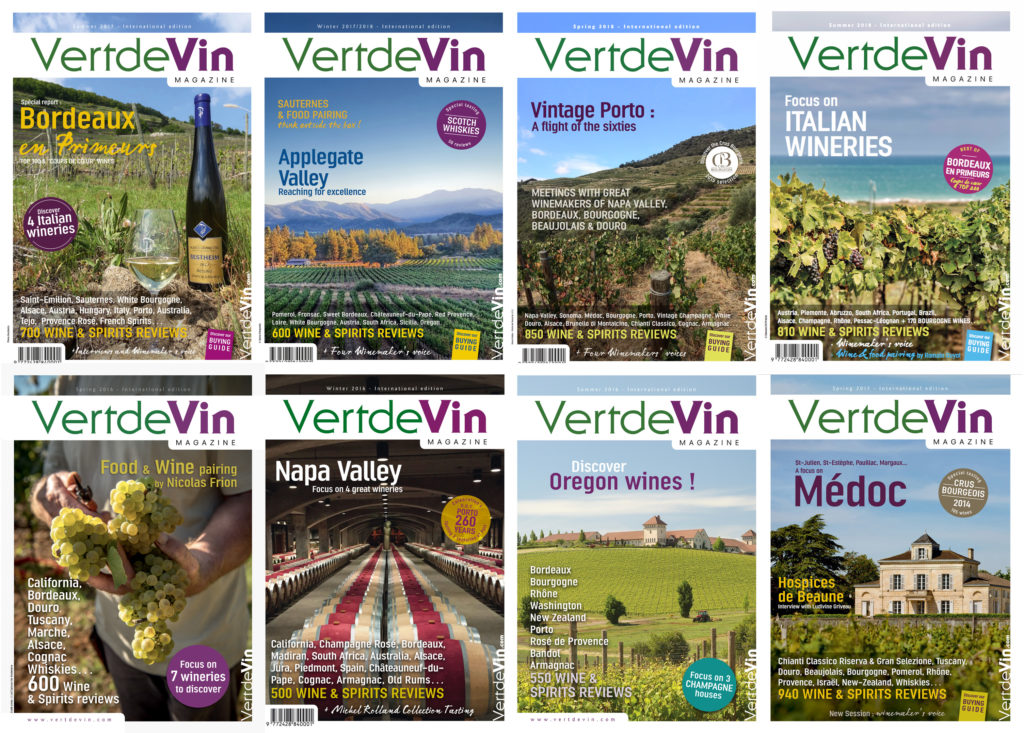 Dear wine/spirits makers,
Vertdevin is an english magazine and a website available in french and in english. The magazine is available in PDF and in printed version that is available on the main international wine fairs (Vinexpo, Prowein, London Wine Fair, Hong Kong Wine & Spirits, Vinitaly, Vinisud, Merano …). In 2018 the magazine will be available on main international wine fairs (Europe, Asia). Each edition of the magazine is sent to over 19,500 people and to some wineshops (Paris, Beaune, London, Bordeaux, Napa, Hong Kong, San Francisco…). Vertdevin is also available on AirFrancePress and on PressReader app (+120 countries, Qantas, Virgin Australia, Cathay Pacific, Ritz….).
How to participate to the next magazine ?
Below you there are a link with the listing of calls to sample in progress (Magazine – Winter 2018). This magazine will be available, with the current issue (Summer issue), on Prowein Shanghai, Merano Wine Festival and on the Hong Kong Wine & Spirits:
How to share your review with consumers?
If you wish to communicate your reviews / scores to consumers, please visit this link. You will find some user-friendly tools as logo, medals, diploma …


(in grey on the picture but in silver in the reality)
A "medal" on your bottle to boost your sales?
If you are satisfied with the tasting review as well as the score and you want to highlight this score to guide the consumer in the purchase, we can suggest you medals for your wine. Available models range with 20 points scale and 100 points scales.
The addition of a "medal" on a bottle is an effective way to boost your sales, and to guide the consumer to your products.
Would you like to opt for Vertdevin "medals" including your score to better promote your product in wineshops ? If yes please contact us by email (contact@vertdevin.com), indicate the required quantity of the wanted tasted wine/spirits and we will establish a free quotation.